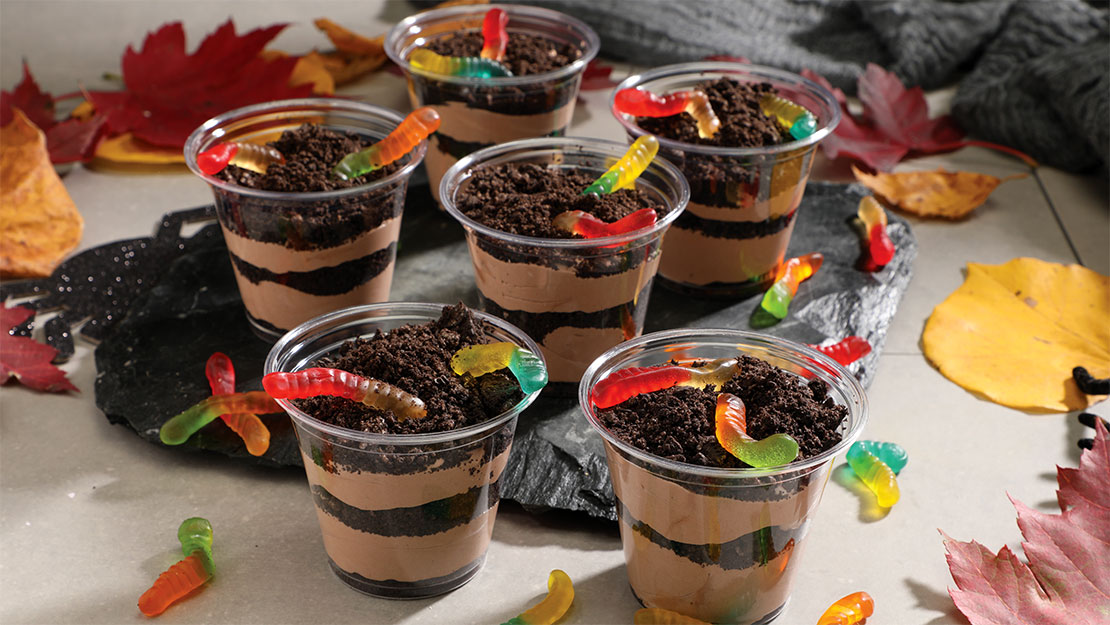 Halloween Dirt and Worms
Our Halloween treat idea continues with our classic "Dirt and Worms" yummy dessert.  The kids love this, and unlike the "eyeballs" fruit snack, the easily identifiable gummi worms make them want to dig right in.
This, along with our Dead Finger Dogs, Ripped Out Eyeballs , and Toxic Waste Punch make a great Halloween themed lunch the kids will remember forever.
Dirt and Worms
A kid favorite. Classic Halloween Dessert idea
Ingredients
12

each

Oreo cookies

1

pkg

Instant chocolate pudding

2

cups

Milk

1

pkg

Gummi worms

4

each

Clear disposable plastic cups
Instructions
Open the Oreo cookies and scrape the filling out.

Throw away the filling- or eat it, no one will know.

Put chocolate cookies into a ziplock bag, and close

Crush cookie pieces with a rolling pin or meat hammer.

Separate cookie crumbles into 2 parts.

Using 1/2 of the cookie crumbles, fill equal amounts of cookie into the plastic cups.

Using the milk and mix, make the chocolate pudding as per the box instructions.

Pour equal amounts of the pudding into the plastic cups, on top of the bottom layer of cookie crumbles.

Put 3 or 4 gummi worms on top of the pudding, and with a fork or end of spoon push 1/2 into the pudding, as if the worm is coming out of the pudding.

Place equal amounts of the rest of the cookie crumbles over the pudding and worms, making the top layer of "dirt".

With a fork end or toothpick, fish the tops of the worms through the cookie crumble, as if the worms are coming out of the "dirt".

Place 1 or 2 additional worms on top of the cup, you can even drape one over the side of the cup as if it is escaping.

Serve to your victims... er, guests.